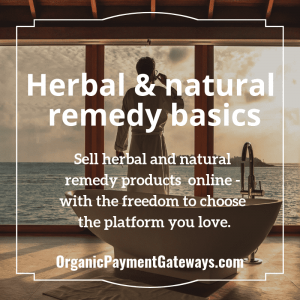 At Organic Payment Gateways, we love "simplifying the complicated" for natural remedy e-commerce site owners. There has never been a higher demand for natural remedies than there is in the United States today. That said, accepting payments online for herbs and natural remedies remains a real challenge. Even experienced natural remedy sellers keep coming across issues with processing credit cards and finding payment gateways that work. We're delighted to say that we can set you up with a high-risk friendly gateway that will work for natural remedy sales. Not only will it fit your product line – it will integrate smoothly with the e-commerce software of your choosing.
You're excused if you're wondering why it's so hard to accept payments online for natural remedies. How can it still be hard to find a decent merchant account when herbal sales have almost doubled, from $4.7 billion to $8 billion in sales in the last ten years? That's why we wrote this post, to explain what you need to know about herbal and natural remedy sales. We explain what herbal and natural remedies are, why it's so hard finding merchant services that work for natural remedies, and what you can do today to help your sales. If you are new to selling dietary supplements, we also recommend browsing our "Dietary supplements: the basics" articles as well.
What are herbal and natural remedies?
If you're experienced in natural remedy e-commerce, this article is unlikely to bring any big surprises. It's more to freshen up on the basics and to help new entrepreneurs understand the product category better so they're well prepared from the get-go.
As with other types of business, it's important to get a good idea of what your product is and who your customers are. The exciting thing about the natural remedy market is that most American adults supplement their diet, in one way or another, regularly. Additionally, you can have a sizable variety of product types in your inventory, even if you "only" sell natural remedies. Herbs and natural remedies come in many forms from many plants and animals. To mention a few products you can sell, you have:
Herbal products, like:

Garlic
Ginger
Ginseng
Onion
Turmeric (cumin)
Licorice
Echinacea
Senna

Cleanses
Homeopathic remedies
Fiber pills, shakes, and drinks
Dietary enzymes
Prebiotics
Probiotics
Weight loss supplements like white kidney bean, African mango, and green coffee
You can further diversify your product range by providing products that offer essential minerals, nutrients, and vitamins. Some examples are:
Vitamin C
Vitamin D
Vitamin E
Calcium
Iron
Glucosamine
Zinc
Magnesium
Melatonin
Fish oils
By offering a range of products, you'll be able to anticipate and provide for your clients' needs.
Now that we've quickly covered types of popular natural remedies and herbs as well as established the fact that most Americans today supplement their diet, the next big thing is to cover is: how to sell natural remedies and herbs online.
How to sell natural remedies online
While you might think that selling natural remedies and nutraceutical products is relatively straightforward, there are some challenges that are generally part of the landscape. Natural remedy sales is a high-risk category industry. Don't worry though, being high-risk isn't a deal breaker. It just means that it's harder for you to find the payment gateway and merchant services you need. This is because acquiring banks and credit card networks assess different types of businesses on various risk elements. The real question becomes "why are natural product e-commerce stores high-risk?"
Why online natural remedy shops are high-risk
Natural remedies, nutraceuticals, and herbal product sales are in the high-risk category for banks and credit card networks. One of the main reasons for this is that the production of many of these products isn't monitored or regulated by the FDA. This leads to manufacturers not having to submit their products for approval, similar to what more traditional drug companies do, for testing. While this allows for fewer complications in production and distribution, it makes financial institutions a bit concerned. In their calculations, it increases the risk of potential legal action against those selling these natural products. They're also expecting a higher likelihood of high chargeback ratios. Another aspect is that many natural remedy sites offer continuity billing as part of their business model. While this billing model is an excellent way to market and grow your business, it also statistically increases the number of chargebacks.
However, as we mentioned earlier, being high-risk doesn't have to be the end of your entrepreneurial dream. It is possible to sell natural remedies online – you just need to set it up right!
Let us help your payment processing with a high-risk payment gateway
When you're setting up your site, you should be careful how you describe your products and how you market them. Mostly, be careful when discussing what you intend to diagnose, treat, cure, or prevent. We highly recommend that you consult a lawyer who specializes in this niche to make sure you're not exposing yourself to any unnecessary problems down the line. Once that's in place, it's time to set up your site for successfully processing payments for your products.
The next step is using e-commerce software and a platform that will accept your business type. It's worth spending a little time to double check your platform and software's T&Cs.
Third, you'll want a supplement-friendly high-risk payment gateway. While there are more than a few high-risk payment gateways and merchant account providers out there, ideally you'll want one that specializes in supplements. This is where we come in! We love helping businesses like yours accept online payments. We can set you up with a supplement-friendly payment gateway.
Organic Payment Gateways provides high-risk payment solutions to CBD and nutritional supplement companies across the US.
Simply click the blue START → below to begin.