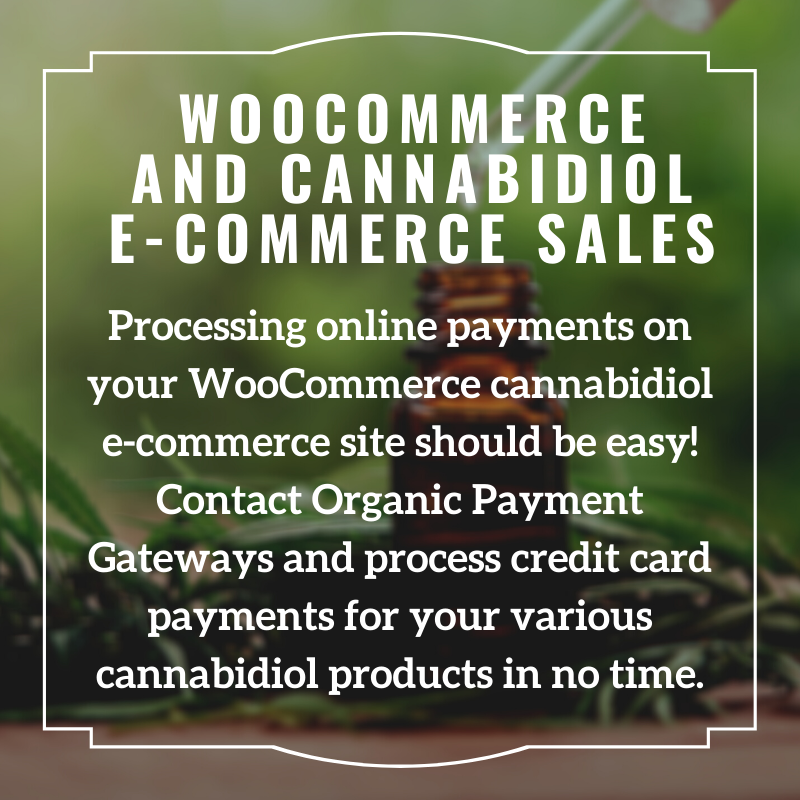 WooCommerce is a fantastic e-commerce plugin for WordPress with a massive user base across industries. It makes it easy for any WordPress site to transform into an e-commerce site, with all the features and abilities you're looking for. However, using WooCommerce to sell various cannabidiol products online can be a challenge.
At Organic Payment Gateways, we believe every legal CBD business deserves the same chance at success as any other business.
Your ability to accept credit card payments online should not hold back your WooCommerce cannabidiol e-commerce site.
This is why we focus on making it as easy as possible for new and established businesses alike to set up their payment processing to handle high-risk payments in no time.
Why choose WordPress when you sell various CBD products?
WordPress is the most popular and common website platform out there today, which makes it easy to find help from people who are familiar with working with the platform. This is obviously a great benefit should you ever be looking for third-party website assistance. However, one of the main reasons that it's so popular in the first place is because it makes it extremely easy to integrate third-party plugins due to its open-source nature. WordPress and WooCommerce allow you to effortlessly expand and add to both the features and design of your site.
When you sell different types of cannabidiol products, on the other hand, the most important thing to consider might very well be how to accept CBD payments using WooCommerce.
WooCommerce makes it possible to integrate various "high-risk" merchant accounts and payment gateways to your WooCommerce site.
We love the WooCommerce-WordPress combination for different reasons, but its user-friendliness and compatibility with high-risk credit card processing is certainly at the top of our list.
Processing credit cards online for cannabidiol products
As a WooCommerce site owner selling different types of cannabidiol products, you'll find that you get a lot of freedom when using WordPress and WooCommerce to run your site. It's also a great fit with the payment gateways we provide, which in turn will make your credit card processing not only easy but also safe and sustainable in the long run.
Finding a payment gateway for CBD e-commerce can be a real pain if you start on the wrong foot. Many CBD site owners find that standard payment processing services, like PayPal or Stripe, simply won't work for them. It's a very frustrating situation to be in. It can also become costly, both in time and money for lost sales, if you temporarily lose your ability to accept credit cards for your products.
This is why it's so important to know from day one that you need high-risk friendly credit card processing when you sell cannabidiol products online. We can help.
At Organic Payment Gateways, we know that the CBD payment gateways we offer will work for your business. You'll be able to accept credit card payments on your WooCommerce site for all your different legal cannabidiol products with ease. It's our goal to make online payments as easy as possible while making sure you have the freedom to choose the platform you love. If you're ready to start accepting credit cards for your cannabidiol-based products on WooCommerce, simply click "start" at the bottom of this page, or contact us here.
Organic Payment Gateways fits perfectly with WooCommerce CBD sales
The WooCommerce plugin is a great choice when you want to use WordPress to sell various cannabidiol products online. However, as a high-risk business, you'll still need to integrate specialized payment processing services to accept credit cards for your products safely and sustainably in the long run.
When you use one of the gateways we offer, you can rest easy knowing you won't have any problems when it comes to accepting payments for your cannabidiol-based products.
We specialize in CBD and supplement payment gateways for e-commerce sales. We're incredibly familiar with the payment world, and we're firm believers that any legal business deserves the same chance at success. We applaud entrepreneurs and business owners who are leading the way in this new e-commerce frontier of CBD sales.
Regardless of whether you're selling CBD beauty products or CBD oil and hemp online, we're here to help you accept credit card payments with ease.
Accept credit cards for your various cannabidiol product e-commerce sales
Have a hard time finding merchant services that not only cater to your business type but specialize in it? We're here to provide you with the best possible CBD-friendly payment gateways for your WooCommerce site. We know that all businesses are unique, and we pay close attention to your needs. With us, you'll not only have a payment gateway provider that knows high-risk payments in and out, but you'll also have someone in your corner.
By using one of our provided payment gateways, you'll be processing credit card payments for your various cannabidiol products in no time. Simply contact us by clicking "start" below, or get in touch with us here through our contact form.
We're looking forward to helping your business and helping your customers by making it easier for them to pay for the products they love!
Organic Payment Gateways provides high-risk payment solutions to CBD and nutritional supplement companies across the US.
Simply click the blue START → below to begin.