We love working with website owners that are beyond the cutting edge of trends – entrepreneurs that sell products in true breakthrough industries, such as those leading the way in the growing CBD beauty products business. At Organic Payment Gateways, our #1 priority is to set you up with a high-risk payment gateway that's CBD friendly and that works with the shopping cart you already use.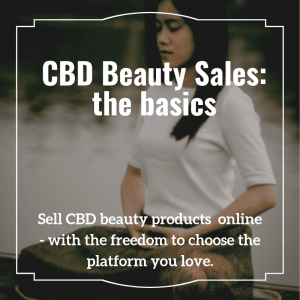 All legal businesses deserve the same opportunity for success. Processing debit and credit card payments online shouldn't be a problem for your business. This is why we'll set you up with a payment gateway that specializes in handling payments for online CBD beauty product sales. Our mission is to make your life easier.
Have you recently started selling CBD beauty products or topicals online? Or are you not overly experienced in online sales? Then you might wonder why finding merchant services for your business can be so frustrating. This is one of the reasons why we wrote this post. We want to provide you with the basics of online CBD beauty product sales.
Why selling CBD beauty products online can be difficult
When selling cosmetics, skincare, and other CBD-based beauty products, you're considered a high-risk merchant. While that might sound a bit strong, the simple fact is that you'll face some challenges that more common businesses don't.
Anyone selling products that contain cannabidiol (CBD) – even CBD with little or no THC, need to operate within a relatively tight legal framework.
There are local, state, and federal laws, pending legislation and hundreds of regulations that apply to CBD sales nationwide. This is why we strongly recommend that you seek out qualified legal counsel before starting your online CBD store.
Being "high-risk" in the eyes of most payment gateway and merchant account providers doesn't mean there's no way for you to accept credit and debit card payments online. At Organic Payment Gateways, we will pair you with a CBD-friendly payment gateway that will help you process payments for your CBD beauty products. Not only that, but our goal is to also allow you to use the site builder and platform you already know and love!
What you need to know about online CBD beauty sales
When you first started building your site, you may have been surprised to find out that even choosing your site builder was difficult. Unfortunately, selling CBD beauty products means there are fewer site builder and e-commerce platforms that will work for you. Often, business types like yours find themselves on the prohibited business lists of many platforms.
That said, there are still plenty of great platforms that will work – when you set everything up correctly. We'll be able to make it possible for you to use the platform you love! Among the platforms, e-commerce software, and shopping carts that others have successfully used for CBD beauty product sales, you'll find:
These are all great platforms/carts that generally make it possible for you to sell your CBD products easily. Still, you need to have a high-risk friendly CBD payment gateway set up to make sure you can sell successfully over time with any of them. Additionally, some platforms have terms and conditions that discuss CBD, some are enforced, and some, according to the site builder's tech support themselves, are unenforced. So, it really makes sense to do your own research, review T&C's and talk with a site builder's support staff before spending time and money building your site.
Our mission is simple –  make it as easy as possible for CBD and supplement site owners to accept credit card payments for their products while using the platform they love.
What to avoid when selling CBD-based beauty products online
As we're covering the basics here, we want to quickly outline some absolute "don'ts" of CBD beauty sales.
Do not use a payment aggregator (such as PayPal, or Stripe) without getting real confirmation from them that your product is 100% allowed. You do not want to risk a shutdown account or held funds.
Do not sign up for a processor because you read online they have a "Beta" program for CBD unless you have specifically approved your URL and products.
Do not rush things and use a standard low-risk merchant account even though you know it's risky.  You could get shut down and that could haunt you as it will show when you apply elsewhere.
The reason why we want to underline these things is that they can have a very negative impact on your ability to run your business. Unfortunately, we've come across hundreds of online business owners who've had their funds frozen, accounts closed, or temporarily been unable to sell their products. It's a horrible position to be in, and we can help you avoid it.
The reason we've been able to help so many site owners in these positions find solutions and get their business back on track is that we know the payment gateway business and we know what solutions work best for online CBD beauty products.
The way we achieve this is by setting you up with specialized, CBD-friendly payment gateways that allow you to securely process payments. The added bonus is that we're also able to make sure it works perfectly with the software and site builders you're familiar with and love using. If you need any help finding a payment gateway that works for your CBD beauty sales – don't hesitate to get in touch. We look forward to helping your topical CBD business thrive!
Organic Payment Gateways is here to help your online CBD beauty sales grow
At Organic Payment Gateways, we love helping e-commerce site owners like you. You provide a product people love, and it's only fair you have the same chance at success as any other legal business. This is why it's our mission to make it as easy as possible for CBD business owners to accept payments for their products, using the platform and software they love.
Organic Payment Gateways provides high-risk payment solutions to CBD and nutritional supplement companies across the US.
Simply click the blue START → below to begin.