Are you struggling to accept payments online using WooCommerce for your weight loss supplement e-commerce store? Then you need a high-risk-friendly payment gateway that helps process your payments in a supplement-friendly way. At Organic Payment Gateways, we love helping high-risk business owners who struggle with finding a payment gateway for their weight loss supplement site.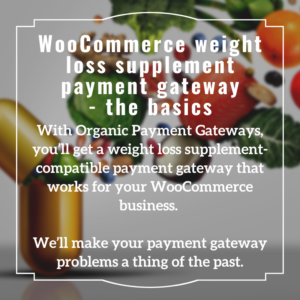 Weight loss supplements are widely popular and sought after. Still, too many weight loss supplement site owners have a tough time finding the right payment gateway. This is what we want to fix! We offer supplement-friendly payment gateways, and we're always available for questions or support – whenever you need it.
All the payment gateways we provide are specifically set up to help your supplement site process payments in the best way possible. This ensures that you can quickly sell supplements with confidence – knowing that you won't face unnecessary fees or surprising "they held my money," or "my gateway shut down my account" moments.
Would you like to start accepting credit and debit cards for your weight loss supplements on WooCommerce? Contact us today. We're always happy to help! On the other hand, read below if you have questions about how best to process online payments for supplements or why WooCommerce might be an ideal fit for your supplement e-commerce business.
Why selling weight loss supplements online is difficult
In our experience, we find that it's best to start by letting you know why selling weight loss supplements can be quite a challenge. Often, new business owners simply are unaware that when you're selling supplements (in general), you're selling what's called a "high-risk" product.
There are many reasons why a product or business is placed within the "high-risk" category by financial institutions and credit card processors. Generally speaking, it's a case of regulations and restrictions that apply to a given product type. However, certain business models can also lead to increases in chargebacks – which in turn can result in some merchant service providers not being able to offer you their services.
All this is to say that selling supplements, and particularly weight loss supplements, means you're running a "high-risk" business, and there are fewer payment processing providers that can help.
Closed accounts and frozen funds
One of the most common issues we've come across is new clients letting us know that they've previously experienced closed accounts and held funds. Luckily, we're far more likely than not able to help and restore their ability to accept payments with ease. However, we do want to make this point before moving on.
Many supplements and weight loss supplement entrepreneurs, when just starting out, often fall for the temptation of using services like Stripe or PayPal. Unfortunately, this is generally not a great idea. Since they don't do a thorough pre-approval underwriting process, they aren't set up to handle supplement business owners' naturally occurring challenges. As a result, they're left with few tools in their toolkit to address and mitigate risk. The end result is that they end up shutting down accounts, temporarily stopping a business from accepting payments altogether, or even holding your money. Needless to say, this is a horrible situation to be in for any business!
However, you can avoid this kind of situation altogether by seeking supplement-friendly payment gateways and merchant accounts.
Why use WooCommerce to sell weight loss supplements
Using WooCommerce and WordPress present a fantastic opportunity to supplement site owners. One of the many reasons why WooCommerce is great for supplement businesses is that it's open-source.
Being open-source means that it actually removes barriers and challenges instead of setting up new hoops that you'll need to jump through. It also makes it a lot easier for third parties to create software that smoothly integrates with the platform and shopping cart.
For us at Organic Payment Gateways, we're particularly happy about WooCommerce because we can find great payment gateways for it. This means that we can set you up with a weight loss supplement payment gateway and integrate it with your WooCommerce store quickly and efficiently.
Are you ready to accept payments on your WooCommerce weight loss supplements site? Contact us today! We'd love to help you safely and reliably process credit cards on your e-commerce site.
Do's and Don'ts of online supplement sales
To give you some quick and concise advice on how to accept payments through your WooCommerce weight loss supplements store, we thought a simple list of do's and don'ts would do the trick.
Weight loss supplement sale do's:
Use a high-risk friendly payment gateway
Use a high-risk friendly e-commerce platform and software
Use a high-risk merchant account
If your product is regulated in any way- consult an attorney
At Organic Payment Gateways, we can help you with almost all of the above! We're not attorneys, though, so please seek legal advice from a qualified attorney should you need it. However, we can help you by pairing you with a high-risk merchant account and payment gateway for your WooCommerce weight loss supplement site. If you're curious what software, shopping cart, and platforms you can use to sell supplements, click here.
Weight loss supplement sale don'ts:
Do not use "standard" merchant services
Do not use an e-commerce platform that doesn't accept your product types
Do not rely on quick fixes (like setting up PayPal or Stripe to accept credit cards)
We always encourage you to check PayPal's acceptable use policy and Stripe's prohibited business lists yourself. While Stripe explicitly lists weight loss as prohibited, PayPal's language is a little vaguer. However, our experience is overwhelming. When you're selling weight loss supplements using a high-risk friendly shopping cart, like WooCommerce, you should rely on a high-risk payment gateway and merchant account.
Process payments for weight loss supplements using the right WooCommerce gateway
Do you need a supplement-friendly payment gateway for your WooCommerce site? Then contact us today. At Organic Payment Gateways, we can set up your WooCommerce supplement site with the payment gateway your business needs.
Simply click the blue START → below, and we'll help you process credit cards by pairing you with the ideal payment gateway for your WooCommerce weight loss supplement site.