If you sell probiotics like Bacillus, Lactobacillus, or Streptococcus online, Organic Payment Gateways will set you up with high-risk-friendly payment processing that's reliable and works with your preferred site builder and shopping cart.
Probiotics are some of the most common nutritional supplements used in the United States. Many people take them for digestive health and other purposes like immune support, and more customers are turning to online shopping for the convenience and large selection of products to be found.
Without a stable, affordable way to accept credit cards, online probiotic businesses cannot survive, let alone thrive. Unfortunately, many common payment gateways consider probiotics "high-risk" and therefore prohibit them from processing payments.
Why are probiotics often considered high-risk by payment providers?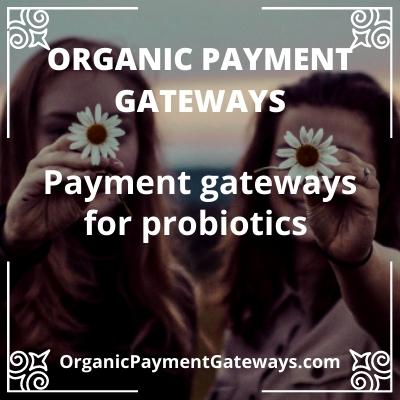 It might seem odd that selling probiotics would often require high-risk payment processing. The microorganisms found in yogurt don't exactly conjure up an image of risk, do they? Well, in this case, the "risk" is not due to the products – you already know your customers appreciate them. It's really more about the nutritional supplement industry itself. Supplement businesses can be more prone to regulatory issues and even chargebacks.
Sometimes, providers like Stripe, Shopify Payments, or PayPal can even lump traditional supplements into the dreaded "pseudo pharmaceutical" category. This means that many online supplement businesses need affordable, stable, high-risk payment processing in order to thrive.
Alternatives to Stripe and PayPal payment processing for probiotics
Regardless of the label that many credit card processors may use for your probiotic supplement businesses, we would love to help you accept credit cards online. With Organic Payment Gateways you can sell your Enterococcus, Saccharomyces, and other probiotics without fear of having your gateway shut down due to product type.
Get in touch with us anytime if you have questions about how we can help or click the blue start arrow below to get started.
Freedom to use the shopping cart you already know and love
Along with the freedom to process payments, we also believe you should be free to sell your probiotics on whichever platform and shopping cart is best for you. There is no need to move to a different site builder or online store and redo the time and energy you've already put in. Whether you're on Wix, WooCommerce, Shopify, or somewhere else, we have the tools and experience to set you up to accept payments online for your probiotics without having to move.
While launching an online supplement business may come with some hurdles, accepting payments for your probiotics should not be one of them. We think you should be able to sell your Bifidobacterium, Escherichia, and other probiotics on the platform of your choice, using reliable payment processing that's designed for the specific products in your store.
Get started anytime by clicking the blue "Start" button below. We look forward to helping you accept payments online.