The ability to accept credit card payments for detox supplements in a stable, affordable way is essential to any online supplement business. Too often, payment processing is a real headache for website owners. Our goal is to fix that.
The online market for detox products and full-body cleanses is growing. If you've been thinking of starting a business focused on digestive supplements such as magnesium oxide, vinegar, acai berry, or homeopathic products, this article can save you a lot of frustration.
At Organic Payment Gateways, we enjoy helping supplement business owners find reliable, high-risk-friendly payment gateways, so we'll share a few things to consider, whether you're new to selling online or are experienced but need more reliable payment processing.
Detox supplements are considered high-risk – what this means for you
The label "high-risk" might be surprising to those who are new to selling digestive supplements online, but it's nothing to be alarmed about.
After all, you know that your customers like and rely on the detox drinks, cleanses, or other digestive supplement products you sell. The label has more to do with the industry as a whole. Since the supplements industry is not regulated as closely by the Food and Drug Administration (FDA), its products can be more prone to chargebacks than others, and so most major payment companies deem them pseudo pharmaceuticals and won't work with detox supplements.
Fortunately, there are still payment processors that are happy to work with "high-risk" businesses like yours, and we're here to help you set up the right one.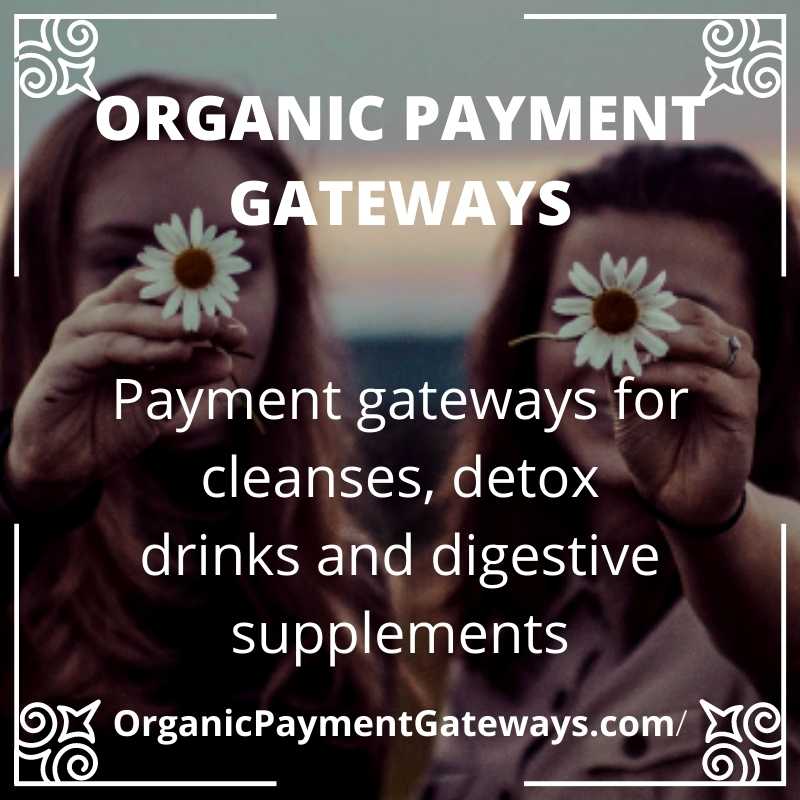 Reach out to us anytime to learn more or ask us questions or click start at the bottom of this page.
You can keep your current website and still accept credit cards
We know how much time goes into building a website, and so we will make sure that your high-risk-friendly payment gateway is one that will work with the site builder you're already using. Whether you use BigCommerce, Shopify, WooCommerce, or something else, you won't have to rebuild and start over just to get payment processing that works with your shopping cart.
High-risk online businesses are often in danger of payment shutdowns if they try to use a popular shopping cart and its built-in payment processor (like PayPal, Stripe, Shopify Payments, or Square). By using a payment processing partner that's aligned with your product type, like Organic Payment Gateways, you can completely avoid that scenario in the future.
Payment processing for digestive supplements
Your payment gateway will be seamlessly paired with a merchant account that is set up to work for the actual products you're selling. For example, if you run a digestive supplement business that focuses on detoxes and senna-based products, we would make sure your merchant account is designed to accept those specific products. Our process dramatically reduces the risk of having your deposits held or your payment gateway shut down.
The ability to accept credit cards online for your digestive supplements is vital to your business – and Organic Payment Gateways can help make it easy instead of an obstacle.
Contact us with questions, or click the blue "Start" button below to begin.