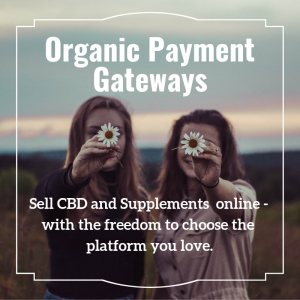 Organic Payment Gateways is proud to partner with Shipfusion and to provide its clients with alternative payment gateways for their regulated or high-risk e-commerce transactions.
Our payment gateways work perfectly with Shipfusion. We allow you to accept credit cards seamlessly and without stress.
If you have been turned down or shut off by Stripe, PayPal, or any other payment gateway, our team will work hard to help you with the alternative payment processing you need to succeed.
Organic Payment Gateways integrates seamlessly with Shipfusion's many supported shopping carts and site builders, including Shopify, WooCommerce, BigCommerce, Magento, and more.  
⇓ Ready to get started? Click the blue start arrow at the bottom of this page to apply ⇓
With Organic Payment Gateways at their side, Shipfusion clients that sell high-risk products like CBD, hemp-based cosmetics, and nutritional supplements will be able to accept online credit card payments for their products without having to switch to a different platform or risk shutdowns from traditional payment processors.

Providing the best high-risk CBD, hemp, or supplement payment processing experience requires insight, hard work, and the understanding that our payment gateways need to work with your existing website whenever possible.
We believe you should have the freedom to use the fulfillment company, website builder, and shopping cart you love, even if the most common payment processing integrations do not allow your high-risk products. Our team wants to help you use the systems you already have in place. Our long-standing relationships allow Shipfusion clients to sell online using nearly any major site builder and shopping cart.
Payment processing choices that help your business thrive
PayPal, Stripe, and Square payment gateway alternatives for high-risk products like CBD, hemp, and nutritional supplements do exist.
At Organic Payment Gateways, we make sure that our choices ALSO work with WooCommerce, Shopify, BigCommerce, Magento, and dozens of other software platforms.
We will work with you or your web designer to ensure that everything is set up correctly and affordably. Our flexibility allows high-risk, CBD, and supplements businesses to process payments with less fear of having their account shut down and without the hassle and expense of changing shopping carts at the last minute.
Finding a payment gateway for an online high-risk, CBD, or supplement website is hard for most business people. It's time-consuming, confusing, and downright frustrating. We want to change all that and make it as easy as possible for you to sell your CBD, hemp, or health and wellness supplements online.
Our mantra at Organic Payment Gateways is that we want you to have the freedom to choose. Choose the platform you want and keep selling the product your customers love—all without unnecessary payment gateway problems. The beauty of the payment gateways we provide is that they work for those who sell high-risk products like CBD oil and natural supplements online. There are many things that can make it hard to set up your business; accepting payments online shouldn't be one of them.
CBD, nutritional supplement, cosmetic, and high-risk payments
You know the value of your products and what they have to offer when it comes to your customers – accepting payments for these products shouldn't be something that holds you back.
We offer easy-to-use payment gateways for many natural products and supplements, including CBD Oils, beauty products, skin care products, hemp oil, homeopathic, natural remedies, dietary supplements, nutraceuticals, vitamins, and workout/ weight loss supplements, drinks, and powders. So don't worry if you don't see your CBD or nutra products listed above. Get in touch with us by clicking the start arrow at the bottom of this page.
Our payment solutions work with major e-commerce platforms
Are you about to start your online CBD or supplement business? Then we want to make sure you have the freedom to choose the platform you want without hindering your ability to accept payments. This is why we're happy to say that Organic Payment Gateways works with most major e-commerce platforms. 
Contact Organic Payment Gateways for Shipfusion payment processing 
Are you tired of feeling frustrated trying to find a payment gateway that works with both your platform and products? Then, don't hesitate to contact us. You can reach us by clicking the start arrow at the bottom of this page. We're here to help make online payments as easy as we can. With the payment gateways we provide, your customers will be able to buy your products easily, and integration with your shopping cart and Shipfusion will remain intact.
Organic Payment Gateways works for a wide range of high-risk, CBD, and supplement products. Are you curious whether the payment gateways we offer might be the right fit for you and your products? Simply get in touch.
We're always ready to give you one-on-one support and assistance. No matter what questions you have about payments for your natural supplements or CBD products.