Are you looking for a way to reliably accept credit card payments online for your THC-O products? At Organic Payment Gateways, we offer specialized payment processing to websites that sell THC-O, CBD, and other regulated products on Shopify, WooCommerce, Wix, and countless other shopping carts and site builders.
Even if you were rejected by a big-name payment gateway like PayPal, Stripe, or Square, don't worry! We have payment options specifically for your business's products, and we've helped many online business owners accept payments for their CBD and cannabinoid derivatives without fear of shutdowns.
According to this article from ACS Lab Cannabis, the passing of the Farm Bill in 2018 has opened up the doors to new, legal experimentation with hemp, leading to more hemp-derived products making their way to markets. Delta-8 and Delta-10 are some recent ones, and now THC-O (also called THC-O acetate) is gaining the spotlight.
This is exciting news for e-commerce merchants who sell CBD and other cannabinoids, and it may be a catalyst for new entrepreneurs to go into business online selling THC-O.
Is it THC-O, as in the letter O, or THC-0, like the number zero?
THC-O is pronounced "THC-oh," not "THC-zero." Therefore, it should be written as THC-O, not THC-0. This distinction does not matter in advertisements or packaging as the letter "O," and number "0" look the same to most. Where it does matter is online and in hashtags. Correctly spelling THC-O will help search engines understand what you are selling and should help potential clients find you.
How can I set up a THC-O payment gateway?
THC-O and other cannabinoids are classified as "high-risk" products, which is why businesses that sell them need specialized payment processing. It's not as bad as it may sound – this high-risk categorization is simply because cannabinoid products are part of a regulated industry.
Before beginning an online business selling cannabinoids, you should consult with a qualified attorney. Laws change regularly and can vary based on your state or region, so you will want to do your due diligence upfront to make sure your business is legally compliant. It's also a good idea to read through the terms and conditions on your site builder to make sure you are compliant there as well.
We at Organic Payment Gateways are not attorneys and can't give legal advice, but once the legal side of your business is set up, we are happy to give help and advice about payment gateways that work for your THC-O acetate products. Feel free to contact us with any questions about high-risk-friendly payment processing for your business.
THC-O payment processing requires a Certificate of Analysis (COA)
A Certificate of Analysis (COA) is a document that verifies that the label on a cannabinoid product gives accurate information about what the product contains. A clear, current COA from a US-based lab is essential to have for each THC-O (or CBD) product you sell in your online store. This is something that high-risk-friendly payment processors require in order to consider a business's application. Up-to-date COAs also help your customers have confidence in your products, which is always good for your business.
THC-O payment gateways that work with the website you already have and love
Sometimes high-risk online businesses start selling products with the payment gateway that comes built-in with their shopping cart without realizing that these are usually powered by the same big-name payment processors that don't allow restricted products. This can lead to unanticipated shutdowns, but specialized processing can help you avoid that frustration. Organic Payment Gateways believes you should have access to reliable payment processing just like any other business, and that is what we help to provide.
We also believe that you should be able to use the site-building platforms and other web tools that you like best, and so we have various integrations to help you stay with the shopping cart you prefer, whether that is BigCommerce, Shopify, WooCommerce, Wix, ClickFunnels, or another. Even if you've been shut down in the past, using a high-risk-friendly payment gateway and merchant account can help you stay with the e-commerce tools you are already familiar with and not have to rebuild elsewhere just to be able to accept payments for your THC-O products.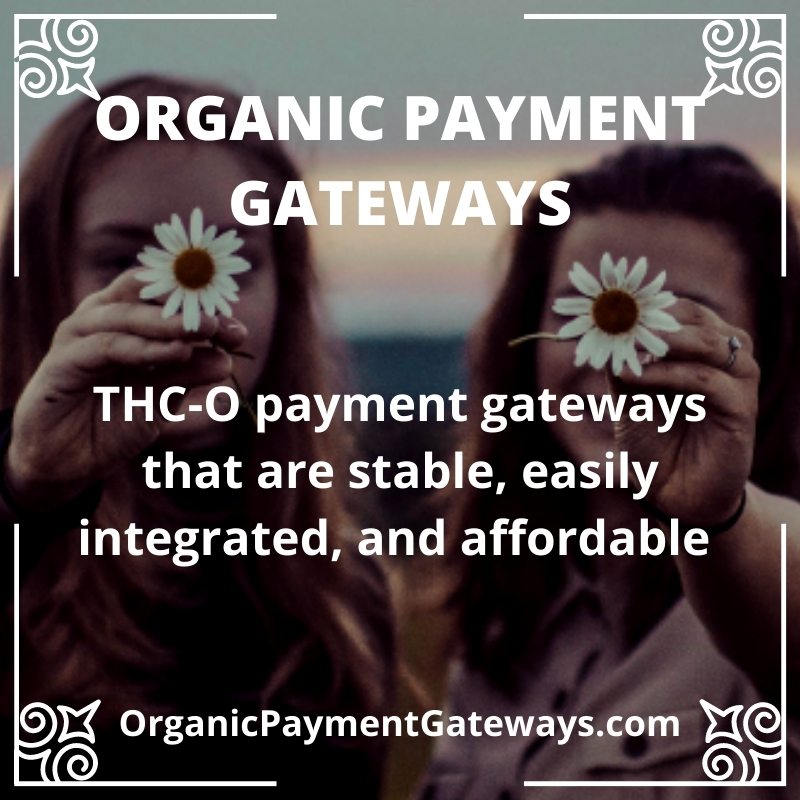 Reliable payment processing for your THC-O business
Now is a great time to start a new cannabinoid business or to diversify the items you already offer by adding THC-O acetate products to your existing store. As we mentioned earlier, consult a lawyer first to ensure your business complies with all laws and regulations. Once you've done that, we can help you get started with a reliable payment gateway and merchant account that is set up for the specific products you're selling.
You shouldn't have to leave the site builder you love or live with the fear of being shut down just because you sell THC-O. When your payment processing is set up correctly, you can focus your energy on running your business, and Organic Payment Gateways is here to help you through that entire process. Contact us here with questions, or click the "Start" arrow at the bottom of this page to begin credit card accepting payments for THC-O.