We work with hundreds of CBD website owners and have always been amazed at the ability these entrepreneurs have to come up with terrific dot-com domain names.
Over the past year, we expected the ratio of dot-com sites compared to other top-level domains, like dot-net or dot-biz, to increase as competition for catchy dot-com domains increased. Our most recent review revealed some interesting data. First, some background.
What is a TLD, and why should CBD site owners care?
In simple terms, a TLD (top-level domain) is the right-side portion of an internet address. The most common examples are: .com, .net, and .org. Dot-com is the dominant top-level domain not only in the United States but also worldwide.
For many businesses, obtaining a catchy, easy-to-remember dot-com address is a priority. Business owners often fear that if they do not have a dot-com, their clients may accidentally visit a competitor who does.
For example, let's say we were looking for a catchy URL to promote fun CBD website facts. Let's also assume that CBDdataForYou was available as a dot-com or a dot-biz. We, like most business owners, would choose dot-com.
Why is dot-com the #1 choice?
Let's say we did choose dot-biz. We would have a real fear that clients, webmasters, or journalists would not remember that we were a dot-biz and go to a broken link or a competitor's dot-com in error. Also, even if people did not erroneously assume that we were a dot-com, it is reasonable to think that any "non-dot-com" domain would be more challenging for most people to remember.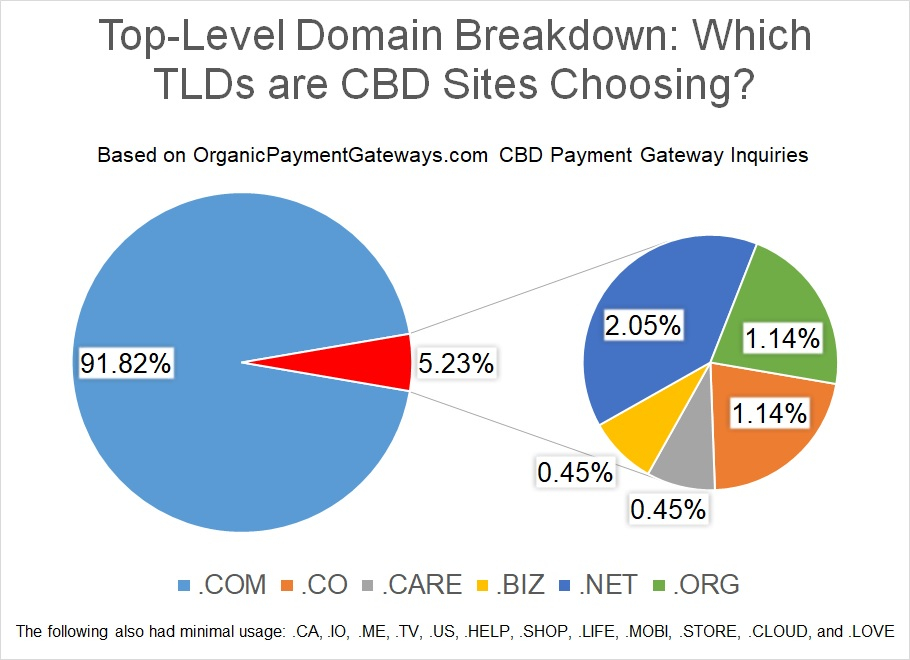 Organic Payment Gateways CBD TLD analysis
This week, the team here at OrganicPaymentGateways.com decided to take a look at the data and see what TLDs online CBD entrepreneurs are choosing, and how dominant dot-com still is. The results are clear and a bit surprising.
How we gathered data
To maintain the full anonymity of everyone's data, we exported their publicly available domains only. We then looked back at over 400 CBD payment gateway inquiries on OrganicPaymentGateways.com over the past 200 days. Our team compiled a report that outlined the top-level domain preferences of the CBD businesses that made those inquiries.
What our CBD TLD data showed
According to our internal data, CBD websites overwhelmingly chose dot-com as the TLD for their URL. The preference for dot-com URLs over other choices has surprisingly not been impacted by the ever-increasing competition for CBD-related dot-com domains.
Even in the new and innovative world of CBD e-commerce websites, when business owners carefully balance new products, fast rollouts, and regulatory compliance, dot-com is still the top-level domain choice, and it's not even close.
Roughly 92 percent, or 404 out of 440, CBD e-commerce websites reviewed chose dot-com as their top-level domain. This is significant, as it far exceeds the worldwide percentage of dot-com, and surprised us as we went through the numbers.
Worldwide, dot-com still encompasses nearly 50 percent of all domain registrations as of late last year, according to Statista, a leading source for market-level data. Worldwide data will usually show a lower dot-com percentage, due to the advent of country code domains like .ca and .uk, but the fact that the CBD sites we looked at were almost twice as likely to go with a dot-com domain, when compared to the worldwide averages, really stood out to us.
We expected new top-level domains like .biz, .business, .health, and even .buzz and  .dog, to take more of a bite out of .com's dominance, in terms of CBD websites. Additionally, it was surprising to see so few .net, .org, and .info domains used by those that inquired with us about payment gateways, considering the huge competition that surrounds short, memorable dot-com domains.
As mentioned above, dot-com was the top-level domain choice for nearly 92 percent of CBD URLs. The second most popular choice was dot-net, although even in second place, it only accounted for a little over 2 percent of the CBD e-commerce sites reviewed, with just 9 out of 440 choosing dot-net.
Only four other TLDs, .co, .care, .biz, and .org, had a usage rate that exceeded one-quarter of one percent. Additionally, the following top-level domains had minimal usage: .ca, .io, .me, .tv, .us, .help, .shop, .life, .mobi, .store, .cloud, and .love.
If you are a new CBD site owner and want to learn more about our CBD payment gateway decision tools, please visit our main CBD payment gateway page.
If you are a blogger or journalist who would like to discuss these findings in more detail, you can contact us anytime. We'd love to help.